Air Space Development creates ways to bring affordable and sustainable housing to the Santa Cruz area.
Air Space Development was formed in early 2004 to establish creative partnerships for investment. These partnerships enable Sustainable Monterey Bay, a community development and planning group, to secure airspaces for ecovillage planning and construction.

By focusing on the air-spaces over existing parking lots and other empty parcels along the railway corridor and by teaming up with the Santa Cruz-based Soltrain LLC, the railway becomes a new backbone for housing, jobs and transportation. Air Space Development has formed alliances with sustainable community development groups like Sustainable Monterey Bay to purchase all of our homesites for the development of high-density, cluster, mixed-use Transit ecoVillage communities in downtown areas, also known as the TEN model. They are located near bus-lines, bike & hike paths and the local railway and will provide alternatives to automobile travel.

Low cost studio, 1 and 2 bedroom units will be stacked on second and third stories in a multi-level garden design. Quality modular construction with community gardens, balconies, edible landscaping, solar and wind energy, water collection, recycling, on-site day care, community offices, work spaces, dining, spa and a media center are planned in all Sustainable Monterey Bay communities. Clean alternative transportation, such as community owned electric-cars, walk & bike paths, busline, the SolTrain rail vehicle, and community work-at-home Life-Passion programs will all help owner-residents to reduce pollution, save energy, scarce resources, time and money.

Over a dozen large parking lots and empty parcels have been targeted for providing homesites exclusively for transit ecovillage development in Santa Cruz County, the City of Santa Cruz, Capitola, Aptos and other areas near the existing railway.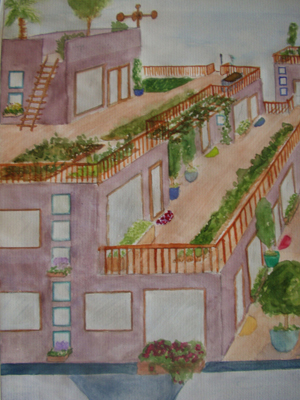 What are airspaces?

When people own land they own three things, the mineral rights, the land rights and the air rights. The land owner is able to sell off any of the three rights. This enables developers to purchase just the air rights, with the original use of the land remaining the same. Many developers use air spaces for their projects, especially in dense areas such as New York City.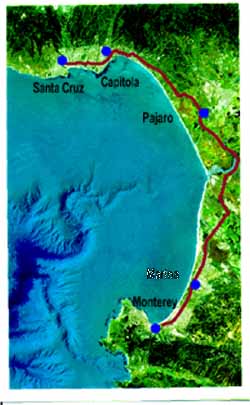 Property Owners Receive Huge Benefits By Taking Part in Air Space Development Projects

Property owners transfer the air space rights to our preferred non-profit and will legally get a large tax deduction for the market rate of the approved homesites in the project. This is a substantial tax benefit from an asset that few property owners thought would have any value. The owner also gets an affordable ecohome unit of their choice for a child or relative to own and use.

Sites owned by municipalities are usually donated to affordable housing groups without the need of a tax deduction or housing unit. Innovative Transit ecoVillage sustainable communities along the existing railway system as a showcase for ecologically integrated cluster development will not be hard to sell. With no land cost, the units can be sold for $200,000 or less, often with no down payment or sweat equity exchanges. Sustainable food and energy programs will lower living costs for residents and each community will focus on work at home ideal careers, livework programs with supportive neighbors.